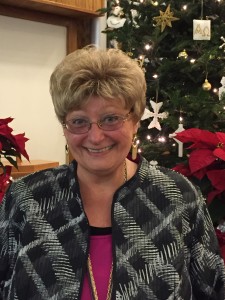 Hi!  I am Jean Heidorn, the current chair of Worship and Music.
The Worship and Music Team assists Pastor Sue Jones with our 5:30 Saturday evening service and 10:00 Sunday morning service as well as other services throughout the year.  The Altar Guild is a dedicated group of people who prepare the altar for our services, change our banners to reflect the season and do a spectacular job of decorating the sanctuary for holidays, such as Christmas and Easter.  They would happily welcome new members.  Another dedicated group of people are our ushers.  Besides handing out bulletins, they make sure the bakery delivery gets to coffee hour so those who are hosting the coffee hour can prepare the goodies.  They are sensitive to the needs of our congregation.
Again, they would welcome any help you would want to offer.  We have a core lay group of Assisting Ministers, Deacons and Acolytes who read the lessons and assist with Holy Communion.  And yes, new people are carefully trained and work with an experienced leader.  We have a Handbell Choir, Children's Choir and Sanctuary Choir that ring and sing on Sunday mornings.  Please read the articles written by their directors.
If you have other questions, contact the church office at (732) 255-4455.