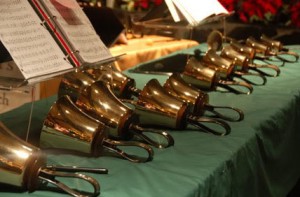 Carol Capor, Director
If you've ever wanted to play a musical instrument, but never had an opportunity to learn, our handbell choir is a great place to start. The bell program is open to anyone in grade 5 or above, including adults. Learning to ring handbells is an activity for the entire family. Knowing how to read music certainly is an asset, but not required. The only prerequisite is that you can count to four and be able to distinguish between colors of red and blue. We will teach you everything else.
Our handbell choir rehearses on Wednesday evening, September thru June, from 6:15 to 7:15 PM. We normally ring at the Sunday service once a month, including Christmas and Easter. Anyone that is interested in learning the art of ringing handbells, should speak with me on Sunday morning following the service.